Dog & Cat Grooming
Malvern Vet Hospital offers a specialised dog grooming and cat grooming service to ensure your pet maintains healthy skin and mat free fur. Our veterinary clinic caters to dogs of any size, shape and breed. Regular grooming is essential for both dogs and cats and can be done during any month of the year.
New clients are welcome to a 20% discount off dog grooming for their first time at Malvern Vet. Simply click the voucher to download and print, then bring it to your first appointment with us.
Our professional dog grooming service includes:
Hydrobathing
Clipping
Brush-outs, and
Blow-drying
Ear plucking (on request)
Nail trims (on request)
Anal sac emptying (on request)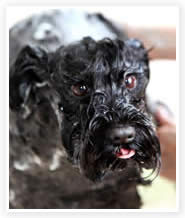 Malvern Vet Hospital has one of the best dog groomers in the business working at our vet clinic and is recognised for providing beautiful results. Dogs can be dropped at our veterinary clinic around 9am and will be ready to return home by early afternoon. With over five decades of experience, you can ensure your dog will be pampered by a professional vet clinic.
As our dog grooming services are in such high demand, spaces are limited and bookings are essential.
Cat Grooming
Cats are generally groomed under sedation supervised by a vet and a vet nurse. Brush outs, knot removal and lion clips are the most commonly requested grooms.
Caring for your Animals
Our veterinary clinic is committed to caring for your animals. Whether you own a dog or a cat, our experienced team can provide additional services such as dog desexing, dog grooming, cat desexing, cat boarding, veterinary consultation, microchipping and more, ensuring your animal is in a healthy and peak condition.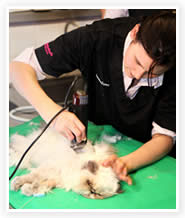 Why Choose Malvern Vet Hospital?
Our vet clinic is one of the few vet clinics in Victoria to operate as an Australian Small Animal Veterinary Association (ASAVA) accredited "Hospital of Excellence". This unique accreditation enables us to provide exceptional dog grooming and additional services including, dog desexing, cat desexing, cat boarding, veterinary consults, vaccinations and a host of others.
Malvern Vet Hospital is open 7 days a week and offers the highest level of service. Our surgery is equipped with the latest veterinary technology, enabling us to provide the best in animal care. As an accredited veterinary clinic, Malvern Vet Hospital thoroughly trains each staff member in each service to ensure your animals are in the best hands.
Each practice undertaken at our veterinary clinic is done to the highest standards. Whether we provide dog desexing, cat desexing, vaccinations or veterinary consults, our staff will implement their skills and practice the highest level of medicine.
For further information on dog grooming, dog desexing, cat desexing, cat boarding, vaccinations or other services contact Malvern Vet Hospital today.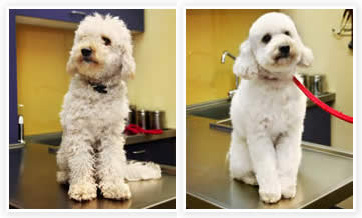 Before and After Grooming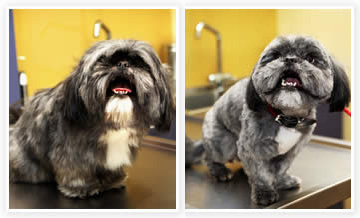 Before and After Grooming
Give us a call today!
Call us to book an appointment with one of our experienced veterinarians.