Dog & Cat Grooming
Malvern Vet Hospital offers a specialised dog grooming and cat grooming service to ensure your pet maintains healthy skin and mat free fur. Our veterinary clinic caters to dogs of any size, shape and breed. Regular grooming is essential for both dogs and cats and can be done during any month of the year.
Our professional dog grooming service includes:
Hydrobathing
Clipping
Brush-outs, and
Blow-drying
Ear plucking (on request)
Nail trims (on request)
Anal sac emptying (on request)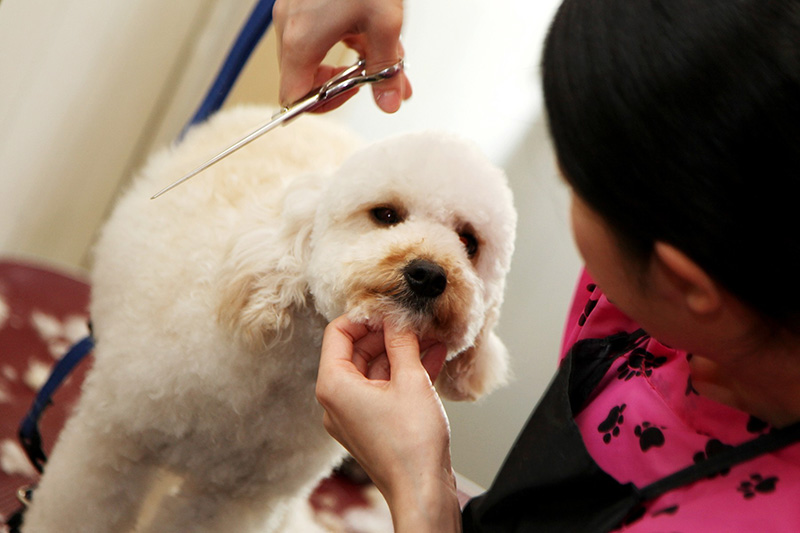 Malvern Vet Hospital has one of the best dog groomers in the business working at our vet clinic and is recognised for providing beautiful results. Dogs can be dropped at our veterinary clinic from around 8.30am and will be ready to return home by early afternoon. With over five decades of experience, you can ensure your dog will be pampered by a professional vet clinic.
As our dog grooming services are in such high demand, spaces are limited and bookings are essential. Standing appointment slots are limited but recommended when available.
Cat Grooming
Cats are generally groomed under sedation supervised by a vet and a vet nurse. Brush outs, knot removal and lion clips are the most commonly requested grooms.
Caring for your Animals
Our veterinary clinic is committed to caring for your animals. Our grooming team work side by side with our veterinary team to offer additional care for pets being groomed who suffer from anxiety or who are elderly .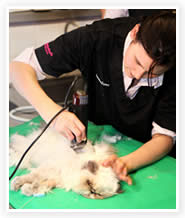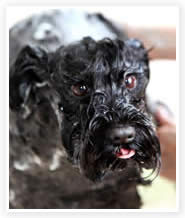 What sort of groom do I choose?
Our prices vary according to your dogs size, coat condition, temperament AND the type of service you choose. The different types of services are listed below:
Bath only: includes bath, blow dry and brush.
Bath and Tidy: trim and shaping of the feathers, feet, +/- groin, face, tail and bottom. Includes bath, blow dry and brush. The coat on the trunk of the body is not trimmed.
Bath and Clip: full trim of the body to a maximum length of 2cm on the trunk (the maximum length possible using electric clippers). Includes trim and shaping of the face, tail, feet +-/- groin and bottom as well as bath, blow dry and brush.
Bath and Stylised clip: Body (trunk) scissored to specific length as required by you. Includes trim and shaping of the face, tail, feet +-/- groin and bottom as well as bath, blow dry and brush. Recommended for breed specific clips.
Bath and heavy Coat: Inclusions are the same as "Bath and Tidy" but specifically for dogs with extra thick coats. Examples of heavy coat breeds include: Akita, Alaskan Husky, Alaskan Malamute, American Eskimo, Australian Shepherd, Bearded Collie, Belgian Sheepdog, Beauceron, Belgian Malinois, Belgian Tervuren, Bernese Mountain Dog, Black Russian Terrier, Briard, Border Collies (Rough), Bouvier des Flanders, Chow Chow, Collie (Rough and Smooth varieties), Finnish Lapphund, German Shepherd Dog, Great Pyrenees, Icelandic Sheepdog, Keeshond, Komondor, Leonberger, Newfoundland, Old English sheepdog, Pekingese, Pomeranian, Saint Bernard, Samoyed, Shetland Sheepdog (Sheltie), Siberian Husky, Swedish Lapphund, Tibetan Mastiff
 For further information on dog grooming, cat grooming or other services contact Malvern Vet Hospital today.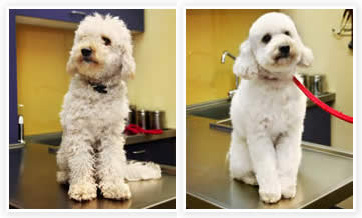 Before and After Grooming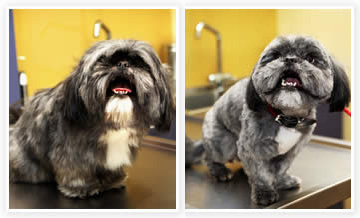 Before and After Grooming
Contact Malvern Vet Today