Desexing
Malvern Vet Hospital offers desexing for dogs and cats of both sexes. Dogs and cats should be spayed or castrated at 6 months of age (as recommended by the AVA – Australian Veterinary Association). At this age, the animals are old enough for an anaesthetic but still have immature reproductive tracts – ensuring a safer surgery.
Our veterinary clinic specialises in cat desexing as well as dog desexing and will ensure the procedure is performed under the highest safety conditions. All pets receive pain relief at the time of surgery, and are also dispensed pain medication to take home. They can usually be taken home on the same day.
The pet needs to be kept rested for the next 7- 10 days (no walks) and intradermal sutures are used which are dissolvable with no ties visible for pets to pull at and no need to be removed.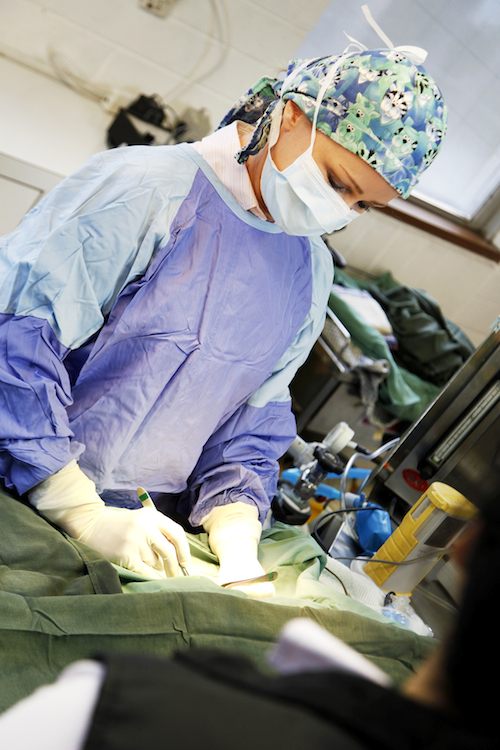 The Desexing Procedure
In the desexing procedure, your animal will either be castrated or spayed. Females have a small incision in the mid belly area and have the uterus and ovaries removed. Males have the testicles removed via a skin incision just above the scrotal sac. All pets receive pain relief medication.
Highest Safety Precautions
As Malvern Vet Hospital is as an accredited veterinary clinic, we are able to boast an extremely high safety record because of the numerous safety protocols in place, such as:
Pre-anaesthetic blood screening
Intra-venous fluids throughout anaesthesia
Monitoring equipment measuring oxygen saturation, respiration, heart rate, blood pressure
High sterility procedures and protocols
Attention to pain relief
Heated surgical tables and heated recovery cages
High safety level anaesthetic agents used.
It is the highest level of care, training, equipment and operating protocols that enable our veterinary clinic to provide exceptional dog and cat desexing services to our clients. During each consultation, surgery or procedure, our staff will ensure the highest standards of care are achieved. Be it dog desexing, cat boarding, cat desexing or vaccinations, Malvern Vet Hospital will provide an exceptional service each time.
Reasons for desexing your animal
There are many reasons to have your animal desexed, but some of the common reasons include:
to avoid common medical conditions such as mammary or testicular tumors, pyometra, prostate disease, unwanted pregnancy and urine spraying in cats.
to reduce the likelihood of roaming (runaways), being hit by cars and dog/cat fight injuries
to reduce council registration fees
For further information on dog desexing, cat desexing, cat boarding, vaccinations or other services contact Malvern Vet Hospital today.
Give us a call today!
Call us to book an appointment with one of our experienced veterinarians.